Ever scrolled through TikTok and wondered how that user managed to pair their video with the coolest track you've heard in ages? Or maybe you've shot your own videos, but they're missing that musical punch? You're not alone! The art of adding music to TikTok videos can transform your content from 'meh' to 'wowza!'—but it's not always straightforward.
Got questions? We've got answers that'll turn you from a TikTok music newbie to a full-blown sound maestro faster than you can say "Play that funky music!"
Discover Music in TikTok and Browse Sounds
So, you're on the hunt for popular songs to jazz up your new video? Look no further because this will help you learn how to add sounds to TikTok videos! TikTok isn't just the home of dance crazes and life hacks that make you go "Why didn't I think of that?" It's also a musical wonderland. So, let's cut to the chase—how do you snag that pitch-perfect tune?
1. The TikTok Sound Library: While you create videos on TikTok, you'll see an option to 'Add sound.' It's like the Spotify of TikTok, giving you access to a vast array of tunes that suit every mood and scene. Use it as your personal DJ; it won't disappoint.
2. Keyword Search: If you're looking for something very specific, like a sound clip, you can always turn to the trusty search bar. Type in some keywords that encapsulate the vibe you're going for, and TikTok will serve you a selection of tracks on a silver platter.
3. Borrow from the Best: Ever stumble upon a TikTok video with the perfect track for your next creation? Good news: you can use the video's original sound too! Just click on the spinning record icon at the bottom right of the existing video, and you'll be able to incorporate that sound into your own masterpiece.
4. From Your Own Collection: Got your own music saved on your local disk that you're itching to use? It's easy to learn how to add music to TikTok video from your own collection.
5. Using an External App: Speaking of external apps, let's say you're looking for more nuanced control over the soundtrack. A third-party app like CapCut lets you layer, adjust volume, and even add special effects to your chosen audio.
Buckle up; it's time to get into the nitty-gritty details!
How Can I Add Music to My TikTok Sound?
The secret sauce for your videos often lies in one simple step: add music to TikTok videos. Adding music to TikTok videos by using their music library is a piece of cake, and here's how you can do it:
1. Open TikTok App: Fire up the app and log in if you haven't already.
2. Hit the "+" Button: This magical button at the bottom center of your screen is your first step to TikTok stardom.

3. Tap 'Add Sound' at the Top: This opens up a Pandora's box of musical choices. From the latest hits to timeless classics, it's all there.
4. Pick Your Tune: You can either scroll through the trending tracks or use the search bar to find a specific song.
5. Select and Record: Once you've found the perfect track, tap on it, and the red checkmark will appear. After hitting the checkmark, the music will be added to your video interface. Now, hit that record button and let your creativity flow!
Adding a Sound as Background Audio
If you're crafting a video where you want to retain your original audio but also infuse it with some captivating background music, you're in luck! Here's how to achieve that perfect audio blend:
1. Capture Your Video: Start by recording your video as you normally would.
2. Tap 'Add Sound': Once your video is recorded, look for the 'Add Sound' option to begin the musical journey.
3. Navigate the Pop-Up Menu:
Sound Selection: You can pick a song from various categories like 'Recommended,' 'Favorites,' or 'Recently Used.'
Explore with the Magnifying Glass: This takes you into the vast universe of TikTok's sound library.
Snip with Scissors: Use this icon to select the precise segment of the chosen song that you wish to include.
Volume Control: Located at the bottom right corner, this allows you to balance the volume levels between your original sounds and the added audio.
How to Search for Music Through the Search Bar
TikTok is a musical playground. It's not just about the videos; it's a hub for discovering new music, too:
1. Tap the 'Search Bar' Tab: Locate the magnifying glass icon at the top right of the 'For You' page. This opens up a world of trending videos, users, and sounds.

2. Go to 'Sounds': Here, you'll find a list of related music according to your search topic. You can search for a song, artist, mood—actually anything you can think of.
Of course, you can also go to the TikTok music library and use the search bar there, like it was mentioned before! However, this way is good for a quick search that you can access directly from 'For You' page.
How to Use Audio of Other TikTok Users
If you've found a sound that you think your followers will love:
1. Tap the Spinning Record Icon: This is usually at the bottom right of the screen of a video.
2. Select 'Use this Sound': This allows other users to tap into the same sound and use it for their videos.
3. Save to Favorites: Save the sound to your favorites if you want to use it later.
How to Add Your Own Music to TikTok in 2023?
Now, this is easier than you think:
1. Locate the Plus Icon: Find the plus symbol at the bottom of your TikTok interface. Tapping it is your gateway to creating video magic.

2. Open the 'Add Sound' Menu: Once you're in, look at the top and tap 'Add Sound'. Get ready to unlock TikTok's treasure trove of audio options.
3. Find the 'Your Sounds' Option: Among various tabs like 'For You' and 'Favorites,' navigate to 'Your Sounds.'
4. Here you'll see a couple of choices: 'import local sound' and 'import sound from video.'
5. Upload Your Unique Sound: Search through your device's audio files, pick the one you want, and voilà! Your sound is now a part of your TikTok video.
Add Your Music to a Video Using CapCut
For those who want to take their video editing to the next level, CapCut is a fantastic external app:
1. Download CapCut: It's available on both iOS and Android.
2. Start a New Project: Import your TikTok video here.
3. Tap 'Audio' or 'Add audio' to continue to the audio library.
4. Tap 'Sounds' icon to browse through your device's audio files or select sounds from CapCuts audio library.
5. Fine-Tune: CapCut offers advanced audio editing features like cutting, fading, and volume adjustment, effects, and more.
6. Export and Upload: Once you're satisfied, export the video and then upload it to TikTok.
Have you heard about the CapCut and TikTok collab? The seamless synergy between CapCut and TikTok is nothing short of remarkable. When you link your TikTok account to CapCut, you unlock the ability to pull in your saved TikTok sounds and effortlessly export your masterpiece right back to TikTok. Plus, CapCut grants you the creative liberty to blend multiple sounds into a single video—a feature that TikTok itself hasn't yet implemented.
Edit Your Music on TikTok Video
So you've shot a new video and added some music, but something's off. Maybe the music is too loud, or perhaps it starts at the wrong moment. Don't fret; TikTok has got you covered with its in-built editing tools:
1. After you have finished recording your video, look for the editing tool.
2. You can now do the following:
Tap Volume: Open the volume control and slide to find the perfect balance.
Drag to Adjust: If the music starts too early or too late, you can drag the soundwave to align it just the way you want. This ensures that the high note hits exactly when you wink at the camera!
Replace audio: If you are not satisfied with your music choice, you can always hop back to the library and make different music choices.
Delete: You can delete the added sound.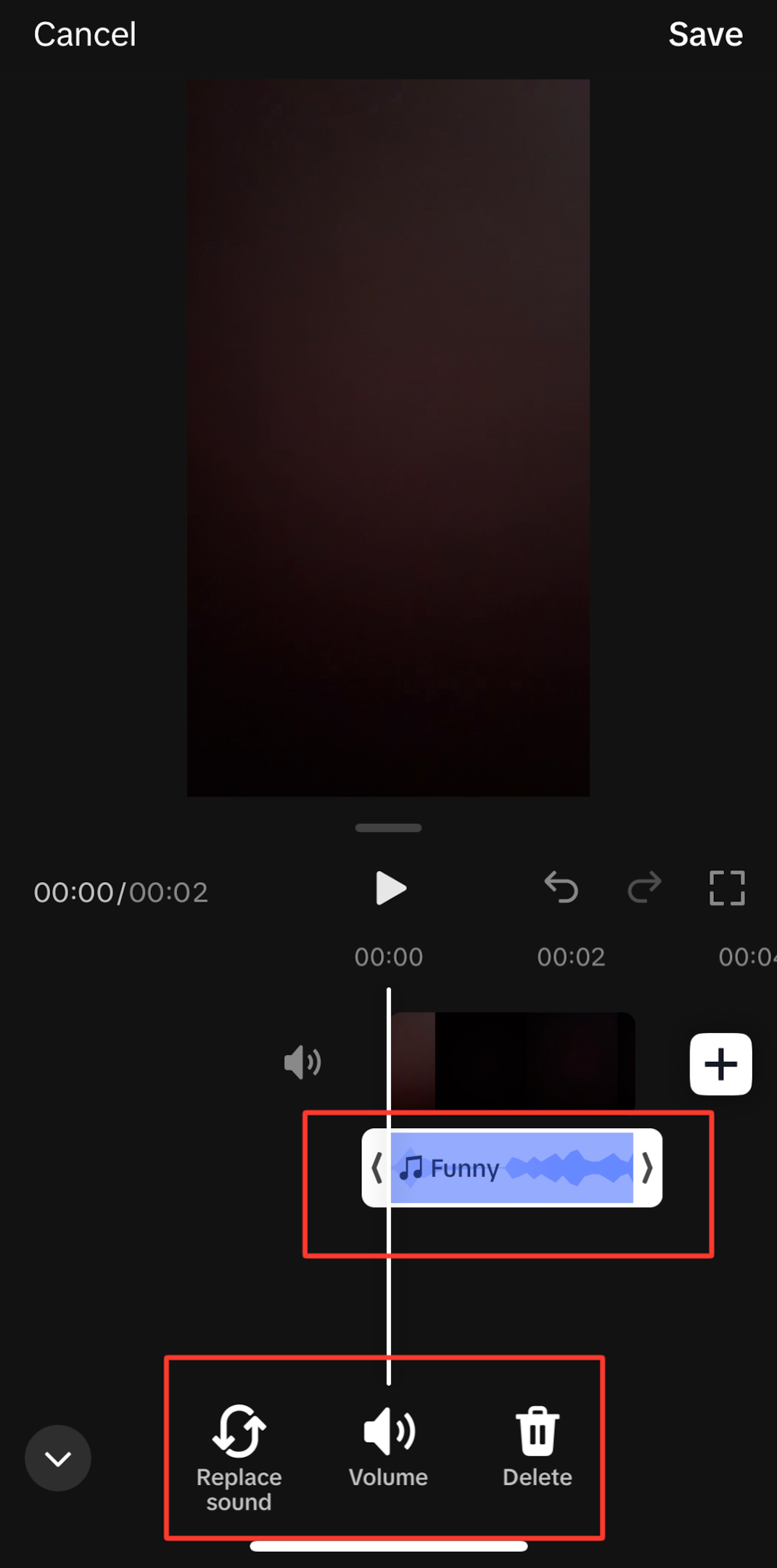 Music on TikTok: Copyright & Other Rules to Follow
Navigating the world of copyright on TikTok is like walking through a musical minefield—you've got to tread carefully! According to Cloud Cover Music, while you can absolutely use your own original compositions, using someone else's copyrighted music can land you in hot water.
The TikTok Music Library: A Safe Haven
TikTok has its own library of music and sound effects that it has received permission to use. This means you can safely use these tracks without worrying about copyright infringement. The platform even partners with certified Sound Partners to ensure all licenses are correct and fees are paid. Currently, TikTok offers about 150,000 pre-cleared royalty-free tracks. So, there's a good chance you'll find something that fits your vibe!
The Commercial Angle
If you're a business or a content creator looking to monetize your TikToks, the platform has specific partnerships for you. Companies like KARM, MassiveMusic, and The Elements Music collaborate with TikTok to create bespoke music and sound effects. Subscription-based platforms like Epidemic Sound and SongTradr are also in the mix, offering a wider range of music for commercial use.
The No-No Zone: What Not to Do
Here's where you need to be cautious: adding a song that you like but did not create could violate copyright laws. If you're caught using unauthorized music, TikTok will likely remove your video, and you could even receive a cease-and-desist letter from the Performing Rights Organization that manages the song's licensing. Worst case scenario? You could end up being sued, especially if you've made money using the song.
Your Content, Your Responsibility
When you upload content to TikTok, you're considered the owner, which means you're legally responsible for any copyright infringements. So, if you're planning to use a song that's not in TikTok's library and you haven't paid for it, think twice!
Cross-Platform Rules
Another thing to note is that music used on TikTok can't be transferred to other platforms like YouTube or Instagram without obtaining the proper rights. So, if you're thinking of reposting your TikTok videos elsewhere, you'll need to get additional permissions for the music.
Frequently Asked Questions
1. Can I add multiple tracks to a single TikTok video?
Yes, but you'll need to use an external app like CapCut for that.
2. Can I edit the length of a track?
Yes, you can trim the music to fit your video perfectly within the TikTok app.
3. Why can't I add music to my TikTok?
If you're having trouble adding music, there could be several reasons:
Region Restrictions: Licensing agreements mean that some tracks are only available in certain countries.
Copyright Takedowns: If a song suddenly disappears, it might have been removed due to copyright issues.
App Glitch: If you're encountering issues, consider rebooting the app or even doing a fresh install.
4. Where are my favorite/saved sounds?
You have the option to tap into your go-to tunes either via TikTok's extensive sound library or directly through your account page.
The Final Note
So, there you have it, TikTok virtuosos! You're now armed with the know-how to turn your TikTok videos into symphonies of sight and sound. Gone are the days of silent films and awkward voiceovers. Welcome to your new era of TikTok stardom, where your videos don't just look good—they sound amazing too!
Remember, the right track can turn your video from a 'scroll-past' into a 'must-watch.' So go ahead, unleash your inner DJ, and let the TikTok world dance to your beats. After all, why should your visuals have all the fun? It's time for your TikTok to not just go viral, but go viral in stereo.
But wait! This is not the end! Are you a musician looking to give your music an extra boost on TikTok? Check out SoundCamps' TikTok Music Promotion. This awesome campaign allows you to submit your song to hundreds of TikTok video creators and this will give you a great chance to go viral! All you need to do is create a campaign, set it up with your track details, and maybe even throw in some optional video concepts, trends, and hashtags. Once you're set, just pay and wait for the magic to happen. Campaigns kick off either 48 hours after payment or on a scheduled date and last up to 14 days. So why wait?